Workshop on Advanced Endoscopic Techniques
Afisari: 1273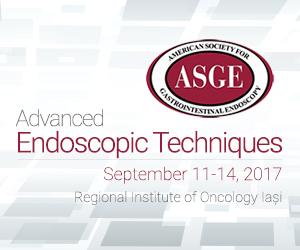 We have the pleasure to announce you the "Workshop on Advanced Endoscopic Techniques" that will be held in Iasi, at the Regional Institute of Oncology, 11th to 14th of September, 2017.
The workshop is part of ASGE Ambassador Program, a philanthropic initiative designed to export two of the Society's greatest assets – endoscopic medical care and training expertise – to areas around the world in need of such care.
Through the ASGE Ambassador Program we will provide, during this workshop, didactic lectures on basic and more advanced endoscopic techniques in colonoscopy (EMD, ESD), ERCP, echoendoscopy and FNA, as well as hands-on sessions on different level of endoscopic expertise.
This workshop is exclusively for residents and the attendance is free, but the organizers will make a selection of the participants as the number is limited to 27.
If you are interested to attend the workshop please fill in the REGISTRATION FORM from the official website www.asge.eventernet.ro until July 1st, 2017.
WORKSHOP MANAGEMENT: EVENTER.NET, www.eventernet.ro
Address: Str. Anastasie Panu no. 13, Iasi
Phone: +40.332.40.88.00-03
E-mail: contact@asge.eventernet.ro mailto:contact@cnchirurgie.ro,
contact@eventernet.ro
Website: www.asge.eventernet.ro